The holiday season has descended. Several menorah candles have been lit and you can't seem to escape the over-cheery Christmas music. Let's face it- you can't beat it so why not join it? And one of the best ways to find yourself in a festive mood is to decorate your apartment!
Maybe you're thinking you don't have the time, or the money, or that a lot of holiday garb is…well, tacky. So let Freshrent help you find the perfect seasonal decor for your home.
A holiday tree – can't decide whether or not a tree is worth the investment (and the pine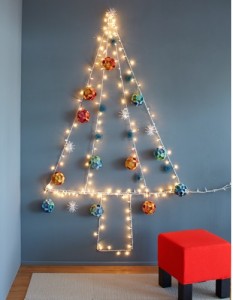 needle clean up you'll face on January 2)? Try some of these reinterpreted trees – brought to you by CB2 – instead. They have a "frame tree," a tree made from a string of lights, and even a "tree" made from a ladder.
If a real tree still sounds better you can always get a potted one. They're smaller and therefore much more compact. And they're still alive so there's less "shedding" involved.
Get fancy with a peacock menorah a la Jonathan Adler and make sure to put it on prominent display! Or, better yet, get an electric one so it can be lit (safely) through the night.
Want something more personal? Get in touch with your crafty side. Stay simple by making cranberry and popcorn chains and kid-like snowflakes and stars. Or, if you really feel like delving into the homemade, try this window swag idea from Women's Day. How about turning some old knee high socks into stocking?
Dining room tables are also good (and easy) places to add some holiday pizzazz. Go tacky with Stars of David-themed (or Santa Claus) table clothes. Be understated with a nice dark green, or blue, throw-over. Make (or buy) a centerpiece with some fir branches and poinsettias, or even carnations in the holiday color of your choosing. And last but not least, take any leftover glass bulb ornaments, put them in a vase, and, ta-da instant holiday cheer on your table!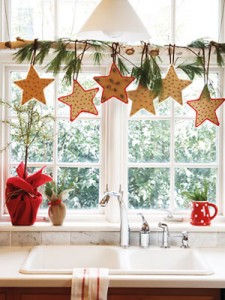 Freshrent– here to help you find an apartment, with tips on how to make it home once you live there!