It's no shock to anyone, inside or outside of Manhattan, that New Yorkers pay tons of money for teeny, not-so-homey homes. But, Michael Bloomberg (New York City Mayor) is on to something: cheaper, sustainably-sized apartments. In fact — under his New Housing Marketplace Plan — the City recently held a design competition to create 55 "micro-apartments" to be built by 2015.
The winning team (composed of Monadnock Development, Actors Fund Housing Development Corporation and Brooklyn's nARCHITECTS) designed apartments ranging from 250-350 square feet. Sounds small? Well, it is. But with the right eye and the right design it's completely habitable, and — judging from the models — much chicer than most other affordable housing options in the boroughs.
But what does this have to do with you? Everything. Because we could all learn a thing or two about how to make the most out of the space we're given. So lets take some tips from New York and Bloomberg and start working with what we've got.
Read on for ideas, tips, or just plain old inspiration.
Lack an entry-way in your new place? Frustrating, but you probably have a bookshelf (or can find one at a thrift store, or Ikea). Take out the top several shelves, drill in a few hooks, and suddenly you have a well-contained coat rack. Plus, you can use the remaining shelves for shoes.
Need more storage in your bedroom (or living-room)? Buy a chest instead of a coffee table. Holds sheets, towels, winter clothes, rain gear, the list goes on.
Apartment Therapy recommends having a space for everything because – to be frank – if something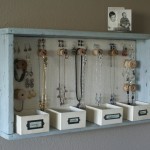 doesn't belong anywhere, it ends up on the floor. Clutter begins here, and clutter makes apartments feel small (and claustrophobic).
For those of you with a lot of jewelry, stop trying to hide it. It's actually a space saver if you leave it out. You wear it to decorate your person, so decorate your walls with it as well.
Tiny kitchens? Invest in a dining table on wheels. That way you can move around at your will, and store to the side, as needed.
What do YOU do to make your FreshRent Apartment feel homey and clutter-free? Tell us on Facebook– We're listening.