So it's really that time, you're officially contemplating a change in scenery? In other words- you're ready to move. But where do you go from here? What neighborhood fits? Are there roommates involved? Can you afford it?
Here are a few tips, brought to you by FreshRent, on starting your hunt for a new home.
Roommates: To have or have not? This is a big question, and one that involves a few factors:
Can you afford to live alone?
Will you enjoy the solitude or end up being that crazy person who talks to their plants?
If roommates are the answer- are you looking for friends, acquaintances or straight up strangers?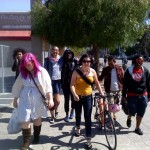 Living alone can be nice, especially if you choose to be in a trendy (i.e. 20-something filled) neighborhood where your friends and possible future friends are likely to hang out. However, if a more quiet, family-friendly neighborhood is better suited for you, roommates might just be the answer. You can travel out to the busy parts of town when you want to or have a quiet night at home- but not alone- if desired.
Living alone can be costly- there's no one helping with rent, electricity, internet, and you really weren't ready to give up cable. Roommates can help that.  And they'll probably keep you from talking to your plants, but then you need to decide if you want to take the Craig's List approach:
Benefits:
You don't owe them much—had a bad day at work and don't want to hang out? Escaping to your room with no more than a simple "hey" is acceptable.
Their allergies will stop you from getting that dog/cat/ferret you don't actually need.
 No risk of destroying a friendship—you weren't friends to start with, so a fight over who didn't do what dishes won't turn into an argument about how you've NEVER been a supportive friend.
 You might actually make new friends.
Negatives:
Your roomie-to-be might be a bit more Type A than they let on in the interview and suddenly they're yelling at you for not keeping the DVDs alphabetized.
There could be a Significant Other in the picture that ends up being the third (non-rent paying) roommate …warning: this can happen with friends too.
Are you vegan? Random-Roommate is not, and just cooked a juicy burger in your cast iron frying pan.
Honesty is always the best policy when picking roommates. If you know doing the dishes in a timely manner isn't your thing-SAY IT. Maybe add in that you find vacuuming to be stress relieving, but say it. If you're a night person you probably don't want to live with a morning person. Making note of these things, prior to signing a lease, can be a lifesaver.
Now that you have all that sorted let FreshRent do the rest!